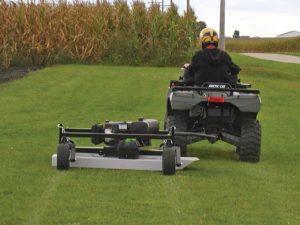 If you're someone that has to mow large fields or grassy areas and don't want to use a zero turn mower or riding mower, then your best bet is to get a mower to pull behind your ATV. This works because it is much more efficient as you are able to drive faster with an ATV, and your handling is also exponentially improved. It doesn't work for everybody but if you are able to master using them, tow from behind mowers are a lifesaver and can make your mowing job a whole lot easier and faster.
Who Should Mow Using Their ATV?
Clearly, mowing using an ATV while pulling the mower is not for everyone. If you have a small yard or just need to mow for your medium-sized home, then a regular mower or string trimmer should be fine. Even a robotic mower can do. However, if you're working on commercial land, farmland, or any large area in general, it would be a smart move to combine a mower with an ATV. You could potentially have this work for a residential address, but it would be viewed as redundant.
Best Pull Behind Mowers In 2022 (Tow Behind Mowers)
1. Rotary Cutter Heavy-Duty Rough Cut Mower
This rough cut mower by streamline industrial is one of the best pull-from-behind mowers you can get online. Naturally, it works very well with both tractors and ATV's alike. Powerful trimming and a smooth ride as well makes for the perfect mower for big-time jobs, and a great option when looking for the best pulling-mowers of the year. It provides you with a 60″ cut making it one of the greatest products for very large areas.
Check Price On Amazon
2. Farmer Helper 78″ Cut – Rough Duty Flail Mower
Even bigger than the mower made by Streamline Industrial, this mower can really handle some massive projects. If you're working on a farm of any kind and need as big of a cut as possible, this is likely your best purchasing option. We've had this model from the very beginning and it has lasted very well. Some of the features you can expect with the purchase of this product are the following:
Mower/Mulcher has 65 HP Cast-iron gearbox

Four drive belts assure power to the blades

Adjustable rear roller with mud scraper bar, heights of 0 to 6 inches

"Y" grass blades are optional.

Under deck clump busters
Check Price On Amazon
3. Titan 72″ 3-Point Flail Mower With Hydraulic Side Shift
Titan's flail mower is also a very good option for farmers. It's 72″ cut is one of the biggest on the market (considering the HP) and paired with the right ATV, it can prove to work in amazing ways. It's not quite as versatile as some other options, but it is plenty powerful. It will mow through essentially anything in its way, as long as it is <5 inches in diameter. Some of the features of the Titan are:
Hitch: Category 1

Forged Hammer Flails

Recommend for use on 45-55 HP tractors

Slide distance of 16″ (8″ either direction from center)

Offset 3 pt Hitch Mount (Fixed)
Check Price On Amazon
4. King Kutter Tow-Behind Garden Tractor/ATV
King Kutter's tow-behind mower is good, but it is a smaller product that is more fit for smaller projects. It can handle a basic residential property just fine, and even some smaller farmlands. Otherwise, it is probably a smarter idea to purchase a bigger and better-equipped ATV mower for larger projects that require more of your attention. Some of King Kutter's features are:
Ten 14in. notched disc blades

Unique pull-tongue design allows down pressure to be applied without use of weights

Heavy-duty square tube frame

1in. high carbon steel axles

Maintenance-free sealed steel bearings
Check Price On Amazon
5. Heavy Duty Brush Beaver 78″ Cutter Shredder
Without a doubt, this is the mower on our list with the most raw power. It just can't be matched in terms of shredding ability, even by the Farmer's Helper model. It has a massive 78″ cutting range that enables it to be extraordinary at what it does. Unlike some other products we've discussed, this one was made for some real heavy duty projects. It can and will shred just about anything. Here are some of the things that this product is known for:
Hydraulic Recommendations……………………19-36 GPM

Blades………………………………….4x Heat Treated Steel

14,000 lbs Radial Load Spindle

50,000 PSI Steel

78″ Deck
Check Price On Amazon
Choosing The Best Pull Behind Mower For Your Needs
Obviously, there are quite a few different options to choose from as it pertains to ATV mowers or mowers that are meant to be pulled from behind. There are many different specs, advantages, and disadvantages to each product; it really will come down to what kind of vehicle you'll be doing the 'pulling' with and what kind of grass you need to mow. For the most part, these mowers were developed with "heavy-duty" in mind and are specifically engineered to be able to tackle even the most stubborn and thick grass. They also cover a lot more surface area than your average lawn mower which makes them elite at mowing large areas. This is why you typically see these devices used more heavily/frequently on farmlands and large commercial pieces of land. You will very rarely see a mower like this on a residential property as most residential properties just aren't large enough to warrant the use of such a loud and powerful tool.
The Different Kind of Pull Behind Mowers That Exist
Finish Cut Mowers
Finish cut mowers, (a.k.a. trail mowers) are also designed for mowing large grassy areas — much like a gang reel mower. These mowers are built more like modern day lawn mowers with a high-powered engine mounted on top of a large cutting deck. If your property contains lots of trees shedding twigs and pine cones, you'll need the extra engine strength to split them into smithereens.
With cutting widths up to 5½ feet, finish cut mowers aren't as wide as gang reel mowers. However, the tow bar of a finish cut mower can be offset from the tow vehicle so that you can use both the mower deck on your tow vehicle (if so equipped) and the cutting deck of the finish cut mower in a side-by-side manner to increase the total cutting width. This would allow you to mow up to 30 or 32 acres per day.
A tow-behind finish cut mower will keep your lawn looking great. But if you have high grass, weeds, or brush that needs to be tamed, this isn't the mower for you. Take a look below to learn about rough cut mowers.
Rough Cut Mowers
If you've got some over-grown, wild property that you'd like to tame, you'll need the machete-like cutting action of a trail cutter. Tow-behind rough cut mowers — also known as trail cutters — use either one or two steel cutting bars that swing back and forth to cut vegetation up to 3" in diameter. Rough cut mowers feature powerful engines designed to thresh thick brush off the beaten path with no problem.
Tow Behind Mowers Versus Other Kinds of Mowers
From a strategy point of view, many might wonder what the benefits of using an ATV or other vehicle to tow a mower are. There are plenty of individuals out there whom would much prefer to use a zero turn mower or a riding lawn mower in general. Although both methods of mowing have their advantages and disadvantages, using a tow-behind mower gives you a huge benefit which is speed and efficiency. When you are able to pull a mower with your ATV or other vehicle, you can get the job done a helluva lot faster and with less fuel than you would if you were to use a traditional mower. Not only that, but you'll also be able to cover longer distances in a shorter amount of time. So, all in all we can safely say that tow-behind mowers are much better at getting the job done as it pertains to larger jobs.
Pulling Mowers With Your ATV: The Verdict
Mowing this way makes everything a lot easier than when doing so with a typical lawn mower. When you use something like a cordless lawn mower, mowing the lawn or grassland will take up a ton of your time and energy. It puts unneeded stress on the product (not to mention the user). When you are able to pull your mower from behind by using an ATV or even a tractor, it makes the whole process a lot more efficient and fast to complete. Overall, there is nothing to lose and much to gain by mowing your grass or weeds in this way.